Classification
| | |
| --- | --- |
| Kingdom : | Animalia |
| Phylum : | Chordata |
| Class: | Mammalia |
| Order : | Carnivora |
| Family : | Felidae |
| Genus : | Catopuma |
| Species : | C. temminckii |
| Zoological name : | Catopuma temminckii , or Profelis temminckii , or Felis temminckii |
| Found In | Ranthambore and Manas National Parks in India |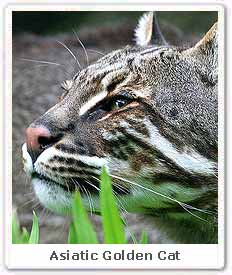 Physical appearance :
Asiatic Golden Cat is the medium sized cat that weigh around 14 – 25 pounds. It has short round ears and is about twice the size of a large house cat. The length of its head and body exceeds to 31- 35 inches and length of the tail up to 19 -20 inches. Usually males are larger than the females. Colour of the fur vary from golden brown to, to red, to grayish brown. In some species spotting is absent. They have white around their eyes, on their muzzle, cheeks and throat and are light colour underneath. They have brown stripes across their cheeks and black markings on their forehead.
Presence in India :
Asiatic Golden Cat are found in the North eastern region of India in Sikkim and Assam. It is easily spotted in the
Ranthambore
and Manas National Park in India.
Species :
Species : Catopuma, along with the Bornean bay cat which is said to be an island version of Temminck's cat (Wozencraft 1993 )
Habitat :
The Asian golden cat is found in dry deciduous forests, tropical rainforests, and in the open habitats with rocky areas. They are also found in the Himalayas at altitude up to the 10,000 feet.
Diet :
Asiatic Golden Cat are carnivorous. They are found eating muntjac, rats, voles, squirrels, birds or even snake They mostly feed on the feed on small to medium size mammals like rabbits, deer, buffalo calves, sheeps and goats. They mostly hunt on the ground but they also have the capability to climb well.
Reproduction :
There is no specific breeding season Asiatic Golden Cat. Female become sexually mature at 18- 24 months while males becomes sexually mature 2 years. After the gestation period of around 75 days, one – two or sometimes four kittens are born. The young ones weigh around 250 g at birth. They double their weight in 3 weeks and triple in 6 weeks. They open their eyes within the nine days and start walking in 17 days after the birth.
Conservation status :
Deforestation and habitat destruction has seriously affected the population of the Asiatic Golden Cat. It is widely haunted by the people for the commercial sale of its pelts, meat and bones. The IUCN Red List has the Asiatic golden cat as Near Threatened. Its bones are used in the medicines.
Lifespan :
Asiatic Golden Cat can live up to 20 years of age.