Classification
| | |
| --- | --- |
| Kingdom : | Animalia |
| Phylum : | Chordata |
| Class: | Mammalia |
| Order : | Rodentia |
| Family : | Muridae |
| Genus : | Rattus |
| Species : | R. rattus |
| Zoological name : | Rattus Rattus |
| Found In | Corbett, Ranthambore and Bandhavgarh National Park |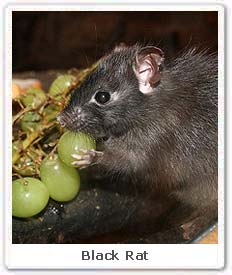 Physical appearance :
Black Rat is a medium size rat. Upper parts of the Black Rat are gray brownish while the under parts are whitish gray in colour. Its total length lies between 16 – 22 cm and weigh around 70 – 300 g. It has relatively large ears and long pointed head. It has a dark, long and hairless tail. Black Rat is a good climber.
Presence in India :
Black rats are mostly found in the Southern parts of India (Mysore). It can also be spotted in the Corbett, Ranthambore and
Bandhavgarh National Park
in India.
Habitat :
They are mostly found in the areas where human lives. They are also found in woods, swamps, trees, cavity walls, around farms and on the roof tops.
Diet :
Black rats are omnivorous. They feeds on fruits, cereals and grains. Black rats have the capacity of consuming 15 g of food and 15 ml of water in a day.
Reproduction :
Black Rat reproduce throughout the year Females have the capability to produce upto 5 litters in a year. The gestation period lasts for 21 days. Young ones are born bald and within three months they are capable of reproducing. The females have ten nipples.
Conservation status :
Black Rat has no conservation status. They are present in large number. They are termed as rodents.
Lifespan :
Longevity of the Black Rat exceeds up to 2- 3 years.