Classification
| | |
| --- | --- |
| Kingdom : | Animalia |
| Phylum : | Chordata |
| Class: | Chordata |
| Order : | Erinaceomorpha |
| Family : | Erinaceidae |
| Genus : | Paraechinus |
| Species : | P. hypomelas |
| Zoological name : | Paraechinus hypomelas |
| Found In | Corbett National Park, Dudhwa National Park and Sariska National Park in India. |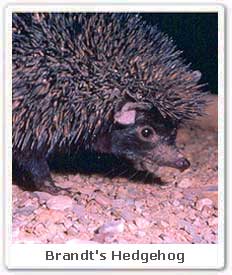 Physical characteristics :
Brandt's Hedgehog have black brownish face with a few white hairs interspersed on the forehead. They have large ears with the narrow base. Both the dorsal and ventral surfaces as well as the limbs are usually blackish brown. Brandt's hedgehog is 9-12 inches long and weigh around 500 - 900 grams. It has five short nailed toes on each of its two front paws. Its back paws have four toes each with nails that constantly grow long. The gap on their forehead divides the frontal spines into two.
Presence in India :
They are easily found in the jungles of India. They are easily spotted in the wild parks of India such as Corbett, Kanha, Dudhwa,
Bandhavgarh
, Mudumalai and
Sariska
Tiger Reserve.
Habitat :
Brandt's Hedgehog prefer dry steppe, desert and mountainous areas to live.
Diet :
Brandt's Hedgehog are omnivorous. They feed on nails, snakes, insects,small rodents, frogs, toads, frogs, carrion, bird eggs, grass roots, mushrooms, melons, berries, and watermelons.
Reproduction :
The gestation period lasts for 40- 58 days and 3- 4 litters can be born in a year. Adult male usually kills the new born male.
Conservation status :
Least concern
Lifespan :
Lifespan of Brandt's Hedgehog does not exceed more than 2 years.