Classification
| | |
| --- | --- |
| Kingdom : | Animalia |
| Phylum : | Chordata |
| Class: | Mammalia |
| Order : | Carnivora |
| Family : | Felidae |
| Subfamily : | Pantherinae |
| Genus : | Neofelis |
| Species : | N.Nebulosa |
| Zoological name : | Neofelis nebulosa |
| Found In : | Corbett National Park, Namdhapha National Park and Manas National Park in India |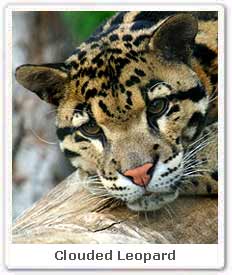 Physical appearance :
Clouded Leopard is 55 - 110 cm long and weigh around 11 – 23 kg. It has cloud like markings all over its body. The clouds are darker inside. The coat is earthy brown in colour. It has longest canines measuring 4.4 cm. It has a thick tail which is as long as the body. The size of the tail is around 20 -30 inches. It has relatively short and rounded ears, which are black grayish from the back. It has short legs and broad paws. Clouded Leopard is a excellent climber.
Presence in India :
Clouded Leopard are found in the North Eastern Part of India. It is easily spotted in the Corbett, Namdhapha and
Manas
National Park in India.
Habitat :
Clouded Leopard prefers grass land, shrubs and dense tropical forest up to the height of 7,000 feet.
Diet :
Clouded Leopard is carnivorous and feeds on deer, goats, wild pigs, reptiles, birds, monkeys, squirrels and wild boar. It mainly haunts on the ground at night.
Reproduction :
Clouded leopard reach sexual maturity at about 2 years of age. Mating can occur throughout the year. The gestation period rests for 186 -93 days. Litters range from one to five cubs. Cubs are born blind and weigh around 140- 280 grams. Females are usually killed by the male leopards, while mating.
Conservation status :
IUCN Vulnerable. Appendix 1 CITES. It is widely haunted for its fur, teeth and bones. Deforestation and habitat loss has also seriously declined the population of Clouded Leopard.
Lifespan :
Clouded Leopard has the lifespan of about 11-17 years.