Classification
| | |
| --- | --- |
| Kingdom : | Animalia |
| Phylum : | Chordata |
| Class: | Mammalia |
| Order : | Carnivorous |
| Family : | Canidae |
| Genus : | Cuon |
| Species : | C. alpinus |
| Zoological name : | Cuon alpinus |
| Found In | Corbett National Park, Royal Chitwan National Park and Kanha National Park in India |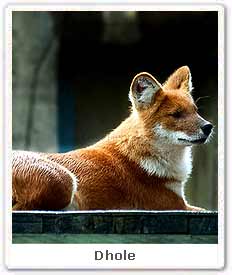 Physical appearance :
Dhole is about 83- 113 cm long. Males weigh around 14 – 20 kg and the females weigh around 10- 16 kg. The upper parts of the Dhole are rusty red and the under parts are pale in colour. Total length of th tail is around 40 – 50cm. long which is tipped with black. It has a thick muzzle and it has one less moral tooth on each side of its lower jaws. They have large and rounded ears filled with white hairs. They have 40 teeths and males are larger than the females.
Presence in India :
Dhole is found in Assam, Bengal, Gujrat, Kashmir, Tamil, and North western parts of India. They are also spotted in the
Corbett
,
Chitwan
and Kanha National Park in India.
Subspecies :
Cuon alpinus javanicus, Cuon alpinus sumatrensis, Cuon alpinus infuscus, Cuon alpinus adjustus, Cuon alpinus dukhunensis, Cuon alpinus primaevus, Cuon alpinus hesperius, Cuon alpinus laniger, Cuon alpinus fumosus, Cuon alpinus lepturus and Cuon alpinus alpinus
Habitat :
Dhole usually prefers dense forests, thick shrub forests and mountain regions to live.
Diet :
The Dhole is an omnivorous. It usually preys on deer, buffaloes, boars, wild pig, wild goats, gaur, banteng and wild sheep.
Reproduction :
Dhole has no breeding season. They reach the level of sexual maturity in a year. Gestation period rests for 60- 62 days. Females have the capability of giving birth to 8- 9 pubs at a time. The pubs are born blind and fluffy. Pubs are usually born between November to March.
Conservation status :
Classified as vulnerable by the 2000 IUCN Red List. Dholes are widely killed by the humans.
Lifespan :
Lifespan of Dhole exceeds upto the age of 10 – 16 years.