Classification
| | |
| --- | --- |
| Kingdom : | Animalia |
| Phylum : | Chordata |
| Class: | Mammalia |
| Order : | Artiodactyla |
| Family : | Bovinae |
| Genus : | Tetracerus |
| Species : | T. quadricornis |
| Zoological name : | Tetracerus quadricornis |
| Found In | Corbett, Bandipur, Sariska, Nagarhole and Kanha National Parks in India. |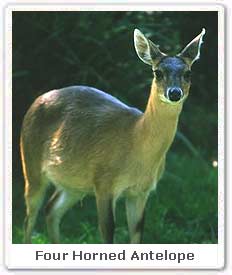 Physical appearance :
Four Horned Antelope is is half a meter tall and weigh around 20 kilograms. The coat is dark brown and inside of the legs is white in colour. It has four horns, two between the ears and the second pair right on the front of the fore head. The back horns are 10 cm long and the front horns are up to 4 cm long. Only males have horns. The colour of its ears from outside is brown blackish. They have thin legs and are resembled by the dark black brownish stripe down the front of each leg.Length of its tail is around 10 -15 cm.
Presence in India :
Four Horned Antelope are found in Tamil Nadu, Orissa and many other parts of India. They can also be spotted at the
Corbett
,
Bandipur
, Sariska, Nagarhole and Kanha National Parks in India.
Habitat :
Four Horned Antelope prefers living in terrestrial, dry deciduous forests,wooded areas rich in vegetation near streams or rivers.
Diet :
Four Horned Antelope feeds on grasses, shoots, fruits, leaves and other vegetations.
Reproduction :
Mating takes place between July to September. Gestation period rests for 7 - 8 months. Females give birth to 1- 3 young ones.
Conservation status :
Currently listed by the IUCN as vulnerable and is on CITES Appendix III in Nepal.
Lifespan :
Four Horned Antelope lives upto 10 years of age.