Classification
| | |
| --- | --- |
| Kingdom : | Animalia |
| Phylum : | Chordata |
| Class: | Mammalia |
| Order : | Carnivora |
| Family : | Canidae |
| Genus : | Canis |
| Species : | C.aureus |
| Zoological name : | Canis aureus |
| Found In | Bandhavgarh National Park and Bandipur National Park in India |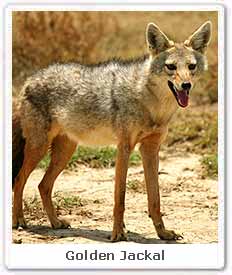 Physical appearance :
Golden Jackal are 70- 85 cm long and weigh around 8 -10 kg. They are golden yellowish in colour with a reddish tail having a black tip. The tail itself measures upto 9 -14 inches. It has white mark on its throat and the back of the ears is darker in colour. Males are usually larger than the females.
Presence in India :
Golden Jackal are found in Kutch , Maharashtra, Rajasthan and Haryana.It can also be spotted in the
Bandhavgarh
and Bandipur National Park
Habitat :
Golden Jackal are found in the variety of habitats. They are mostly spotted in the semi- desert, evergreen forests, savannas and agricultural areas.
Diet :
Golden Jackal are omnivorous. They feed on small mammals, insects, hares, fish, birds and fruits.
Reproduction :
Gestation period rests for nine weeks. Females give birth to 3-6 pubs. During pregancy males go out in search of food and the females rest at home. They weigh around 200 -250 g at birth. They open their eyes in about ten days. They are weaned in 4- 6 weeks. The females are sexually mature than in less than a year, the males closer to the two years.
Conservation status :
Not threatened
Lifespan :
Golden Jackal lives upto 14-16 years of age.