Classification
| | |
| --- | --- |
| Kingdom : | Animalia |
| Phylum : | Chordata |
| Class: | Mammalia |
| Order : | Artiodactyla |
| Family : | Cervidae |
| Subfamily : | Cervinae |
| Genus : | Axis |
| Zoological name : | Axis porcinus |
| Found In : | Kaziranga National Park, Corbett National Park and Manas National Park in India |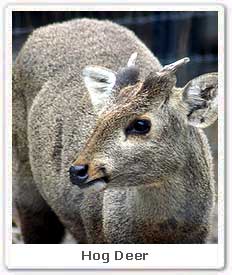 Physical appearance :
Hog deer is 110 – 115 cm long and weigh around 36- 50 kg. It has muscular body with short legs. Its coat is ochre brown in colour Males are usually darker than the females. The males grow antlers which have three tines and grow up to 60 cm in length.
Presence in India :
Hog Deer is mostly found in the Northern parts of India. It is commonly found in Bengal. It can also be spotted in the
Kaziranga
, Corbett and Manas National Park in India.
Habitat :
Hog deer prefers dense reed beds, thick riverside vegetation, and close to swamp in woodlands.
Diet :
Hog Deer feeds on leaves, grasses, young shoots and rice plants.
Reproduction :
Hog Deer reach the level of sexual maturity at 8 -12 months. Mating season takes plae between September to December. Gestation period rests for 180 days. Females give birth single calf. to Young ones are weaned at about six months.
Conservation status :
Threatened
Lifespan :
Hog Deer live upto the 20 years of age.