Classification
| | |
| --- | --- |
| Kingdom : | Animalia |
| Phylum : | Chordata |
| Class: | Mammalia |
| Order : | Primates |
| Family : | Hylobatidae |
| Genus : | Hoolock |
| Zoological name : | Bunopithecus hoolock |
| Found In : | Kaziranga National Patk, Manas National Park and Namdhapha National Park in India |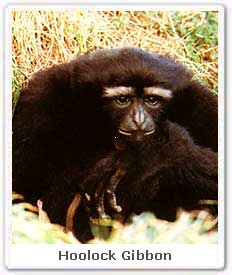 Physical appearance :
Hoolock Gibbon are 60- 70 cm long and weigh around 7 kg. Male Hoolock Gibbons have a black coat with clearly visible white eyebrows. Female Hoolock Gibbons are light grayish brown or light brown in color. Their arms are longer than the arms.
Species :
Western Hoolock Gibbon Hoolock hoolock , Eastern Hoolock Gibbon, Hoolock leuconedys
Presence in India :
Hoolock Gibbons are found in several states of North East India including Assam, Arunachal Pradesh, Manipur, Meghalaya, Tripura and Nagaland. They are also spotted in the
Kaziranga
National Park, Manas wildlife Sanctuary and Namdhapha National Park.
Habitat :
Hoolock Gibbon prefers tropical evergreen rain forests, mountain forests, semi- evergreen forests and tropical mixed deciduous dominated forests.
Diet :
Hoolock Gibbon is furgivorous. They usually feed on fruit, leaves, eggs, small vertebrates, insects, spiders, flowers and buds shoots.
Reproduction :
Hoolock Gibbon reach the sexual maturity at 7 years of age. They usually mate during the rainy season. Gestation period rests for 7 months after which single offspring is born. Young ones are born between December and March. Infants are hairless and have gray white coat with yellow tinge during the birth. Within six months of their birth their fur changes to black.
Conservation status :
Endangered species
Lifespan :
The lifespan of the Hoolock Gibbon exceeds to 25 years of age.