Classification
| | |
| --- | --- |
| Kingdom : | Animalia |
| Phylum : | Chordata |
| Class: | Mammalia |
| Subphylum : | Vertebrata |
| Order : | Rodentia |
| Family : | Muridae |
| Subfamily : | Gerbillinae |
| Genus : | Meriones |
| Species: | M. hurrianae |
| Zoological name : | Meriones hurrianae |
| Found In : | Hingo and Corbett National Park in India |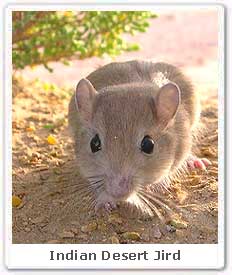 Physical appearance :
Jirds are gray brown in colour. They are 12 – 14 cm long. They have short ears and their tail is approximately 10- 15 cm long. They have long black claws and yellow incisors.
Presence in India :
Jirds are mainly found in the Rajasthan and Gujrat. It can also be spotted in the Hingo and
Corbett
National Park.
Habitat :
Jirds prefer desert and barren areas to live. They are mostly found in the sand dunes.
Diet :
Jirds mainly feed on seeds, roots, nuts, grasses and insects.
Conservation status :
Least concern
Lifespan :
The average lifespan of the Jirds is about 4 years.