Classification
| | |
| --- | --- |
| Kingdom : | Animalia |
| Phylum : | Chordata |
| Class: | Mammalia |
| Order : | Erinaceomorpha |
| Family : | Erinaceidae |
| Genus : | Hemiechinus |
| Species: | H. collaris |
| Zoological name : | Hemiechinus collaris |
| Found In : | Corbett National Park and Gir Wildlife Sanctuary in India |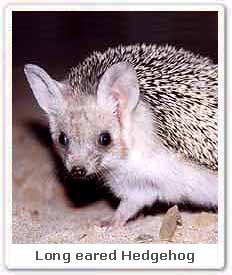 Physical appearance :
Indian long eared Hedgehog is 17 cm long and weigh around 200- 250 gm. It is small in size but has extremely large ears.
Presence in India :
Indian Long eared Hedgehog are almost found in all the parts of India. It can also be spotted in
Corbett National Park
and Gir Wildlife Sanctuary.
Habitat :
Indian Long Eared Hedgehog is mostly found near the human habitations.
Diet :
Indian Long Eared Hedgehog feeds on insects and other invertebrates.
Reproduction :
Males perform dance in front of the females for several days before mating.
Conservation status :
Least concern
Lifespan :
Unknown