Classification
| | |
| --- | --- |
| Kingdom : | Animalia |
| Phylum : | Chordata |
| Class: | Mammalia |
| Order : | Artoodactyla |
| Suborder : | Ruminantia |
| Family : | Cervidae |
| Subfamily : | muntiacinae |
| Genus : | Muntiacus |
| Species: | M. muntjak |
| Zoological name : | Muntiacus muntjak |
| Found In : | Bandhavgarh National Park, Bandipur National Park and Kaziranga National Park |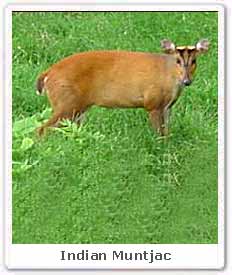 Physical appearance :
Indian Muntjac are up to 4- 5 feet in length and weigh around 35- 75 pounds. It has soft, short, grayish brown hair with creamy or whitish markings. Males have antlers, which are 15 cm in length and have only one branch. The male tusks can reach up to 1 inch. They have small head but relatively long muzzle.
Presence in India :
Indian Muntjac is found in the Northen parts of India. It is easily spotted in the
Bandavgarh
,
Bandipur
and Kaziranga National Park.
Habitat :
Indian Muntjac prefers rain forests, monsoon forests and hilly areas with dense vegetation.
Diet :
Indian Muntjac is omnivorous. It feeds on fruits, seeds, sprouts, plants, leaves, barks, birds eggs, shoots, carrion and small mammals.
Reproduction :
Indian Muntjac breed through out the year. Females reach the sexual maturity at at about 1year of age. Getation period lasts for 210 days, after which one or two young ones are born. Newborn weigh around 1 pound during the time of birth. They are weaned at 2-3 months of age.
Conservation status :
Least concern
Lifespan :
Indian Muntjac can live up to 17 years of age.