Classification
| | |
| --- | --- |
| Kingdom : | Animalia |
| Phylum : | Chordata |
| Class: | Mammalia |
| Order : | Rodentia |
| Family : | Hystricidae |
| Genus : | Hystrix |
| Species: | H.indica |
| Zoological name : | Hystrix indica |
| Found In : | Gir Wildlife Sanctuary and Kanha National Park in India |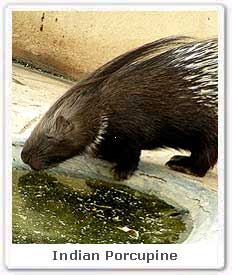 Physical appearance :
Indian porcupine is 70-90 cm long and weigh around 37 kg. Its tail is 8 –10 cm long and is covered with short spines which are white in colour. . It neck and shoulders are covered with the crest of stiff hair, which are 15 -30 cm long. The hollow spine of feather on the back of Porcupine grown in large quantity are deep marked with deep black or white rings. Its sharp and modified hair form the multiple layer of spines.
Presence in India :
It is mostly found in Haryana and many other parts of India. It can also be spotted in the
Gir Wildlife Sanctuary
and Kanha National Park.
Habitat :
Indian Porcupine prefers mountains, tropical and sub tropical grasslands, temperate scrublands and forests.
Diet :
Indian Porcupine is herbivorous. It feeds on fruits, vegetables, roots , grains, mangoes potatoes, onion, bananas, corn, branches etc.
Reproduction :
Gestation period lasts for 240 days. Young ones are usually born in the month of March. Females have capability of producing 2- 4 offspring per year. They are born with their eyes open and their body is covered with short soft spines.
Conservation status :
Least concern
Lifespan :
Life expectancy of the Indian Porcupines is around 20 years.