Classification
| | |
| --- | --- |
| Kingdom : | Animalia |
| Phylum : | Chordata |
| Class: | Mammalia |
| Order : | Artiodactyla |
| Suborder : | Ruminantia |
| Family : | Cervidae |
| Subfamily : | muntiacinae |
| Genus : | Muntiacus |
| Species: | M. putaoensis |
| Zoological name : | Muntiacus putaoensis |
| Found In : | Bandhavgarh National Park |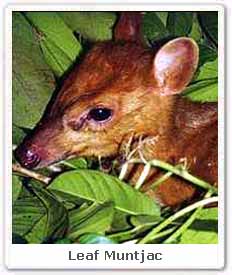 Physical appearance :
Leaf Muntjac is 60- 80 cm in height and weigh around 11 kg.
Presence in India :
Leaf Muntjac is spotted in the Namdhapa National Park in Arunachal Pradesh. It can also be spotted in the
Bandhavgarh National park
in Rajasthan.
Habitat :
Leaf Muntjac prefers dense forests up to an elevation of 450 -600 m.
Diet :
Leaf Muntjac is herbivorous. It mainly feeds on fruits.
Conservation status :
The leaf muntjac has not yet been assessed by IUCN.
Lifespan :
Unknown