Classification
| | |
| --- | --- |
| Kingdom : | Animalia |
| Phylum : | Chordata |
| Class: | Mammalia |
| Order : | Carnivora |
| Family : | Felidae |
| Subfamily : | Felinae |
| Genus : | Pardofelis |
| Species: | P. marmorata |
| Zoological name : | Pardofelis marmorata |
| Found In : | Corbett National Park and Namdhapha National Park in India |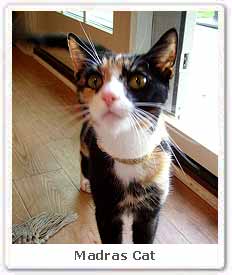 Physical appearance :
Marbled Cat is 80- 115 cm long and weigh around 4- 8 kg. It has thick , soft, yellow- brownish fur. Its head, neck and limbs are marked with the black spots. The Marbled Cat has a face sporting a well defined line stripe extending from the corner of each eye and jutting back over the forehead. Tail is tipped with the black colour and is 45 cm long. It has relatively short and rounded ears with one large spot on the back. Its eyes are golden in colour and has large canine teeth.
Presence in India :
Madras Cat is mostly found in the North -eastern parts of India. It can also be spotted in the Namdhapha and
Corbett
National Park.
Habitat :
Madras Cat prefers moist tropical forests to live.
Diet :
Madras Cat is carnivorous and feeds on birds, rats, frog, bats, squirrels, lizards and rodents.
Reproduction :
Gestation period lasts for 66- 82 days after which the females give birth to four kittens at a time. Kitten open its eyes in 16 days and is able to walk in 22 days. They weigh around 100 g and have full set of teeth. Madras Cat attain the sexual maturity in 21 months of age.
Conservation status :
Placed on CITES Appendix I.
Lifespan :
Lifespan of Madras Cat extends up to 8- 10 years of age.