Classification
| | |
| --- | --- |
| Kingdom : | Animalia |
| Phylum : | Chordata |
| Class: | Mammalia |
| Order : | Scandentia |
| Family : | Scandentia |
| Genus : | Anathana |
| Species: | A. ellioti |
| Zoological name : | Anathana ellioti |
| Found In : | Sri Venkateswara National Park in India. |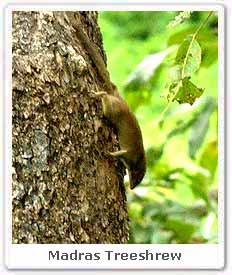 Physical appearance :
Madras Treeshrew is16.0- 18.5 cm long. Its upperparts are brown,yellow and black in colour. Its tail is16.5cm to 19.5cm long.
Presence in India :
Madras Treeshrew is found in the Central and Southern parts of India. It can also be spotted in the Sri Venkateswara National Park in India.
Habitat :
Madras Treeshrew prefers moist to semi-moist deciduous forests in an overall dry deciduous area
Diet :
Madras Treeshrew are omnivorous. They feed on caterpillars, earth-worms, flying ants, butterflies and fruits.
Reproduction :
Little is known about its reproductive behavior. It produces five young ones at a time.
Conservation status :
Near Threatened
Lifespan :
Not Known