Location of Baga Beach :
Baga beach lies 10 km west of Mapusa in north
Goa
in India. It is actually the extension of the Calangute beach. Baga beach is one of the most frequently visited beaches of India. It is most popular among the foreign tourists who use it as the base for fishing and various water sports.
Best Time to Visit :
The region experiences the heavy rainfall between the months of June to October. Tourists can plan out the holiday trip to the Baga beach anytime between the month of November to February. The calm and quiet atmosphere of the Baga beach makes it more preferable among the tourists coming on the tour to India.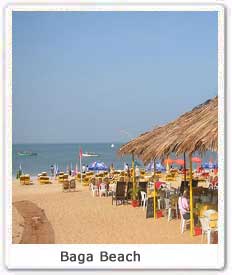 Tourists activities at Baga Beach :
Tourists can try out the number of water sports at the Baga Beach such as para sailing, water skiing, and wind surfing. You can also go for
fishing
in its water. It is also a popular beach among the party lovers. You can dance all night on the beats of the trance music. You can try out the exotic Goan cuisine and sea food at the Baga beach. Unlike the Anjuna Beach, Baga beach also conducts small market every Saturday, popular among the locals.
Tourists attractions :
Calangute Beach :
Tourists can a make a excursion trip to the nearby Calangute Beach. It is popularly known as the 'Queen of beaches' because of the immense beauty of the beach which you won't find anywhere else. You can try out various water sports at the beach such as para sailing, water skiing, and wind surfing. You can also shop for the Kashmiri handicrafts and traditional items sold on the stalls here.
Medicinal springs :
Another major attraction close to the Baga Beach are the medicinal springs. These medicinal springs are quite popular among the tourists and are the ideal location for making picnic. Tourists from all around the world came to take a dip into these medicinal springs, which are said to posses medicinal properties.
Baga Retreat House :
Visitors can also take a walk on the Baga hill, on the top of which is the Baga Retreat House It is popularly known as the Casa de Retiros and is dedicated to St. Francis Xavier.