Location of the Colva Beach :
Colva beach lies in the south of Goa at the distance of 6 km from the city of Margao. It is the longest beach in
Goa
. The best time to visit the beach lies between November to February.
Climate of Colva Beach :
Goa enjoys the pleasant climate throughout the year. The climate basically remains consistent throughout the year. Summers stats from mid March and remains till June. The maximum temperature in summers reaches up to 32.7°C and the minimum temperature is 24°C. Monsoon period in Goa rests from June to September. Winters starts at the end of November and remains till February. The maximum temperature in winters reaches 32.2°C and the minimum temperature is 21°C . There is no drastic rise during the summers and no drastic fall during the winters.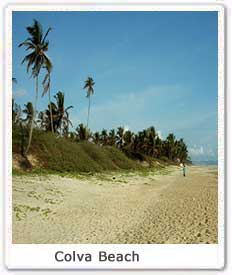 Adventure activities :
Colva beach provides you the excellent opportunity to try out the numerous water sports in its water. You can easily try out your hand on jet skiing or speed boat rides. Tourist can enjoy the bicycle ride in the surrounding area of the Colva beach. You can take the leisure walk on the golden sand of the beach. Colva beach is popular picnic spot among the tourists.
Nearby attractions :
On the tour to the Colva Beach the tourists can make a visit to a very simple Church called The Church of Lady of Mercy. The church houses the wonderful statue of Menino Jesuse. It was built in the 17 century and is quite famous for the annual religious festival called 'Fama of Menino Jesuse'. Tourists can go for the leisure walk to the nearby Colva village. There you can converse with the local fisherman and know about their lifestyle and livelihood. Than you can spend time at The Church of St John, located just 2 km from the beach. Tourists can even enjoy the bull's fight from 4 pm onwards between the month of October to May. The fight is held in the rice field on the beats of the Konkani music. Other than these do not forget to make a visit to the pristine Benaulim beach near to the Colva beach. Benaulim provides you the completely friendly environment as well as relaxing gateway.
Dress code :
There are no restrictions in wear anything on the beach. Men can go to the beach on the shorts and womens in Bikini. Party : Tourists can party hard at the beach. Nightlife at the Colva beach is quite exotic, which one should not miss out.
Food :
While on the beach you can try out the exotic sea food. Do not forget to taste the most famous drink of Goa called Feni. It is also known as Fenny. You can either try out the Cashew feni or the coconut feni. Both the drinks are equally delicious. You can even try out the cuisines from the nearby stalls.