Location of Gopalpur Beach :
Gopalpur Beach on Sea is located 170 km from the Bhubaneswar and 16 km from from Berhampur in the Indian state of Orissa. This pristine and small beach resort lies along the Bay of Bengal. The best time to visit the beach lies between the month of October to April.
Climate :
Gopalpur on Sea enjoys the uniform climate through out the year. Summers are hot with the maximum temperature of 35°C and a low of 23°C . On the other hand winters are relatively cold with the maximum temperature of 27°C and the minimum temperature of 16°C .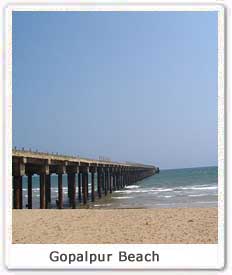 History :
There is an interesting history behind the Gopalpur On Sea. It was originally known as Paloura. It was the small fishing village on the coast of Orissa. Gopalpur beach has got its present name on the name of the 18th century temple of Lord Krishna or Gopala. It had earlier remained the important trading center. The British East India Company had constructed huge ware houses and godowns over their. According to the historical evidences it was once the wealthy town of the Kalinga Dynasty.
Attractions around Gopalpur Beach :
Located at the distance of 45 km Chilka Lake, is the most popular excursion trip from Gopalpur on Sea. It is largest brackish salt water lagoon in Asia. Around is the Chilka Lake is the famous birding spot known as the Chilka Wildlife Sanctuary. The lake provides the good opportunity for the adventure enthusiasts to try out fishing and angling at the lake. Another major attraction around the beach is the Taptapani, which is 67 km from the Gopalpur on Sea. It is a hot water sulphur spring, which is said to contain the medicinal properties. You can also visit Dhavaleswar, which is 15 km away, famous for the temple of Lord Shiva.
Adventure Activities :
Gopalpur beach is the perfect gateway from the hustle and bustle of the city life. It is the excellent place for trying out the surfing, and yatching. You can also go for the boat cruise admiring the natural beauty of the place. You can avail the facility of the trainers to guide you in the aqua sports. Visit the lighthouse located nearby which provides the finest view of the beach. You can spend time exploring the orange orchards of the close by hamlet.
What To Carry :
It is advisable to carry the comfortable cotton clothes on your visit to the beach. Also carry sun hats, sun goggles, and body lotion along with yourself.
Food :
Gopalpur beach gives you the good opportunity to try out the fresh sea food available in the local market. Shopping : Tourists can also shop for the handicraft items made of seashells sold on the beach side by the local villagers.