Location of Laccadives Beeches :
Laccadives or Lakshadweep beaches comprises of 36 coral islands located at 300 kms off the coast of south Indian state of
Kerala
. The best time to visit these beaches lies in between the month of October to April. The most famous beaches of the Laccadives include Kavaratti, Kalpeni, Minicoy, Kadmat, Agatti and Bangaram. These are the only coral islands of our country.
Climate :
Lakshadweep enjoys the tropical climate throughout the year. It is generally warm, humid and pleasant. In summers the maximum temperature reaches up to 35 degree centigrade with the minimum temperature of 22 degree centigrade. The relative humidity in Lakshadweep is up to 75%.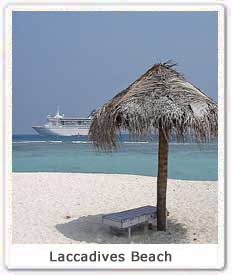 Adventure Activities :
Laccadives beaches are exotic location for the Eco tourism. The beaches of Laccadives provide the fascinating underwater marine life. And scuba diving is the best way to explore them. The joy of exploring the unexplored world of under water is truly unique. So you can always head to the beaches of Laccadives and enjoy diving and snorkeling here. Than another major attraction of these beaches are the boat cruises. The ships provide you all the luxurious amenities that makes your trip more enjoyable. The holiday trip on the cruises gives you the best opportunity to explore the natural beauty of the surrounding areas.
Tourists can also take the pleasure of wind surfing in its crystal clear water. It is the superb combination of surfing and sailing, which requires a surfer to balance his body against the against the currents of air and water. You can hire the surf boards and the boogie boards from the resorts. There are also opportunities for anglers on these beaches. You can try your luck at catching fishes with the help of the local fisherman. If you want you can also go for the sunset and sunrise cruises on the fishing boats along with the local fisherman. Apart from the water sports you can visit the nearby villages to experience the unique culture of the various tribes inhabitating in these areas.
These beaches of Laccadives also holds the rich flora and fauna. Tall palm and coconut tress are what you cam spot everywhere. Apart from these the deep green shrubs locally known as kanni, cholam, chovak, Punna, and Cheerani forms the rich floral system of Laccadives. It is also the popular birding site where you can carry the binoculars along with yourself. The common sea birds which you can find here are Tharathasi and Karifetu. The area also holds the exotic marine life. You may spot here thousands of colourful fishes and butterfly fishes.
Food :
Tourists can try out the spiced rich vegetarian and exotic sea food on the beaches of Laccadives. Non vegetarians can look for the fried, curried and barbecued fish.