Location of Varca Beach :
Varca beach is located at the distance of 2 km from Benaulim Beach in South
Goa
in India. It is one of the most impressive and exotic beach of south Goa.
Best Time to Visit :
Goa experiences the moderate climate through out the year. The maximum temperature during the summers reaches up to the32.7°C and the minimum temperature is around 24°C. In winters the temperature is pleasant and you may require light woolens. Varca beach is the perfect place for those who want to spend time in peace. The best time to visit the beach lies in between the month of November to March.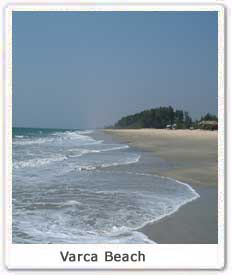 Tourists activities :
Varca Beach offers tourists a wide choice of enticing water sports ranging from jet ski, speed boat rides, water skiing, para sailing and many more. Swimming is the good option for all those who love venturing into the water. During the afternoon you can also take sun bath sitting alongside the beach.
On the tour to Goa who wants to miss the exotic river cruises. A few days trip on the boats sailing though the pristine beaches and enjoying the natural beauty of the place. Apart from that you can also take the Dolphin watching and fish spotting trip available at the Varca beach. You can try out the variety of Goan dishes and the sea food at the very low coast at the Varca beach.
If you are looking for an entirely different experience than you can hire a
bike
and ride along the beach side. It is good way to cover all the attractions of the beach in lesser time. All the party loves can party all through the night on the beach side playing the trance music and dancing hard.
Tourists attractions :
Benaulim Beach :
Tourists on their tour to the Varca beach can make a excursion trip to the Benaulim beach. Benaulim is a very quiet beach, which starts at the point at which Colva beach ends. You can go for fishing at the Benaulim beach. The trinket stalls on this beach in the evening make it utterly romantic. The beach is popular for the bull fighting, which starts at early October and reamins till late May.
Margao :
Margao is a famous town of Goa, over crowed with old Portuguese churches. It is the second largest and the commercial hub of Goa. In the ancient times it was the popular for fishing market, where the fisher women used to gather to sell out their catch, shouting at the top of their voice. Colva beach is the prime attraction in Margao, visited by tourists from all around the world.