Located on the banks of Ganga, Har Ki Pauri is the major pilgrimage attraction in the city of Haridwar, in
Uttaranchal
. This ghat is extremely sacred as this is the place where the footprints (
Charan
) of Lord Vishnu (
Hari)
are found. The ghat of Har Ki Pauri was built by the King Vikramditya in the 1st century BC. According to the legends the King built the temple in the memory of his brother Bhatrihari, who used to meditate here on the banks of the river Ganga. After the death of the brother, he constructed a ghat at this place, which is now known as Har Ki Pauri.
Har Ki Pauri is the one such spot where the holy
Ganges
enters the plains. It is the site where the Kumbh mela is held every 12 years. The ghat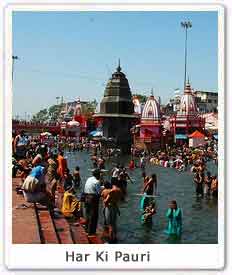 provides the kaleidoscope of the Indian culture and civilization. The spectacle of sound and color can be seen here all the time.
Sadus
enchanting
vedic
hymns and
mantras
,
pandits
worshiping the sun God, pilgrims taking bath at Ganges is what makes the visit to the Har Ki Pauri a enchanting experience. Religious rituals like
mundan sanskar
(head tonsuring rite),
ashti visarjan
(immersing of ashes of the dead), and
shraddha
(prayers to offers peace to ones ancestors) can be seen here through out the day. Tourists can plan out the trip to this place all around the year.
Evening Aarti at Har Ki Pauri :
In the evening the
Maha Aarti
is performed on this ghat and the magnificent diyas that float on the ghat during the night provides you one of the enchanting view. The whole ritual exceeds to 30 - 40 minutes and starts at around 7 pm. People are seen offering prayers at the ghat with the puja thali, flowers and ghee lamps.
One of the most fascinating view is when the the pilgrim flow their diyas (made of dried leaves) into the water with a hope that their wish will come true. Priests sing
bhajans
and
aartis
(prayers) waving the oil lamps (large fire bowls)over the Ganga. It is one such moment, which should not be missed by the visitors. You somehow feel the peace inside you and won't feel like leaving this place.
Sacred Dip at Har Ki Pauri :
Devotees from all over the world come here to take a sacred dip in the holy water of Ganga. The bathing ghat at Har Ki pauri is known as the Brahma Kund. It is the same place where the Lord Brahma performed
Yagna
in the ancient times. It is believed that by taking a dip at this ghat one can be freed from all the sins and bondage of the world. Metal chains are hang from the bridges to protect the pilgrims from being drowned into the water, while taking the bath. Kumbh mela and Ardh Kumbh are the most auspicious occasion among the Hindus, when the pilgrims flock here in large number to bathe in the Ganga. Round the clock many rituals take place in the evening in order to please the pilgrims