Location :
Milam is one of the largest and major Glacier in the Kumaon region. It is located t in the Pithoragarh district of
Uttarakhand
, India, at the height of 4250 meters above the sea level. It is situated on the eastern side of the Nanda Devi National Park, on the south facing slope of th main Himalayan range. The Milam Glacier originates from the slope of the Kohli and Trishul peaks. It is spread over 37 sq kms and is approximately 27 km long. Milam is surrounded by spectacular 52 high peaks from all the sides.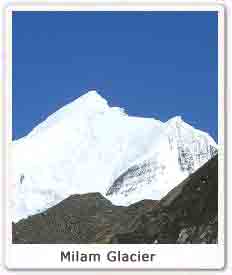 Trekking at Milam Glacier :
Milam Glacier is the best
trekking
route in the Himalayas. Trekking to the Milam Glacier starts from Munsyari and follows the gorge of the Goriganga river. Munsyari is on the arterial water body of the Goriganga. It emerges from the Milam Glacier system of the eastern flanks of the Nanda Devi Sanctuary. The trek is beautiful but as well as challenging too. From Munsyari you get the magnificent view of the Panchchuli peak. The trek takes you the remote areas passing through the forested lowland regions to high alpine meadows. On the trekking route miss the ruins of the old Rilkot village, which are worth visiting. Few distance from Rilkot, you get the enchanting view of the Martoli peak. On crossing the bridge at the place called Barfu you get the mind blowing view of the Har Deval and Nanda Devi peak. Vibrant valleys of the Gori Ganga in between the trekking routes fascinates you with the natural beauty of the place. Admire the impressive waterfalls and forests of rhododendron, Juniper, conifers, bamboo and chestnuts. The best time to trek is between June to October.
Tour to the Milam Village :
Tourists are recommended to make a visit to the Milam village, which is one of the highest villages in the Himalayan Range. Milam village is one of the largest village in the Kumaon region. It is located near the glacier, on the old trade route to Tibet. The main inhabitants of the village are the Rajputs from Rajasthan. It gives you the opportunity to explore the rich cultural and traditional values of the Kumaon. The area is quite popular for the handicrafts items, made by the villagers. Once the village was full of houses but now it holds few huts only.