Location :
The Siachen Glacier is located in the extreme north central part of Jammu and Kashmir near the Indo - Tibet border. It is the largest glacier in the world outside the Polar regions. It originates from the Sia Kangri in the Karakoram range and is approximately 72 km in length . It lies in the Karakoram range of mountains at the altitude of 5, 400 meters above the sea level. Just like the other glaciers, Siachen glacier has a vast snow field in the center. It can easily be approached via Skardu in
Ladakh
. The glaciers melting water is the main source of water for the Nubra river, which further falls into the Shyok River.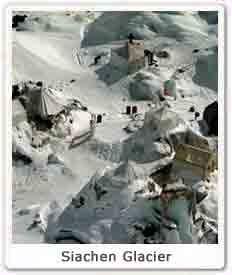 History :
Siachen Glacier was formally known as the Saicher Gharni. It means the place of roses – Sia (rose), chen (place of). It is also the world's highest battle ground ever. India and Pakistan have been continuously fighting since 1984. Both the countries have permanently maintained military personnel on the glacier. Both the countries are paying heavy price for the Siachen Glacier.
Adventure at Siachen Glacier :
Siachen Glacier provides a very good opportunity for
mountaineering
. The climbing is quite challenging. Every step you climb up to the Siachen glacier is a reward. The curiosity to explore and know as to what lies at the heights, has made mountaineering a serious business at the Siachen Glacier. It is dream come true among the mountaineering enthusiasts. You can also try out other snow sports like skiing, ice skating, and heli skiing here.
The Siachen Conflict :
The Siachen conflict is the military war between the India and Pakistan over the Siachen Glacier. Both the sides wants to exercise control over the Glacier. As a result both the sides the lost heavy toll of men and resources. For more than a decade both the countries have fought at altitudes of over 22, 000 feet in minus 60ºC temperature. The reason of conflict over the glacier lie in the non- demarcations on the western side of the map beyond NJ9842. According to the 1972 Shimla Agreement and 1949 Karachi Agreement it is not feasible for human habitation to survive north of NJ9842. Since 1948 neither the Pakistan nor India have permanent presence in the area.
The Indian Army have control over the heights of the glacier. As the Pakistani Army cannot get up to the glacier, same the Indian Army cannot go to the down side. India controls the Leh Ladakh region while the Pakistan exercise control over the Gyong La Pass that overlooks the Nubra and Shoyk river. According to the estimates one Indian soldier is killed over other day, while one Pakistani soldier is killed every fourth day. As per the Indian reports, this operation has cost more than 50 billion and has taken a huge toll of life. But most of the causalities are due to the bad extreme weather conditions and natural disasters.