Walk into the subtropical pine forests of the Himalayas, a beautiful paradise lost in time. The
Himalayas
sub tropical pine forests are confined to Nepal, Bhutan, states of Jammu and Kashmir, Himachal Pradesh, and Uttar Pradesh in northern India, and Pakistan in the west. They are the largest one in the Indo pacific region. The sub tropical pine forests are mainly classified into types – Lower Siwalik Chir Pine Forest and Upper (Himalayan) Chir pine forest. The variety of life forms i.e. Flora and fauna that occur in the subtropical pine forests presents the panorama of biological diversity along with its spectacular beauty and wild richness. Due to its unique geographical location and diverse topography its a paradise for the nature lovers.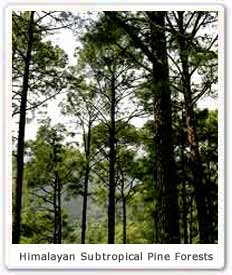 Flora :
The vegetation of the Himalayan subtropical pine forests consists of pure pinus roxhurghii. Among the forests in the Himalayan region Shisham,
Teak
,
Sal
, Pine, fir, Juniper and Rhododendron are mostly seen. As one goes up to the forests, one encounters the several variety of medicinal herbs that are specially found in this region. The pine forests in the Himalayas frequently receives the fire and the burnt slopes supports the growth of rich grasses such as Arundinella setosa, Imperata cylindrica, Themeda anathera, and Cymbopogon distans and a number of shrubs such as species of Berberis, Rubus etc.
Fauna :
Interestingly, Nowhere as in the world you will find such a varied wildlife as in the Himalayan sub tropical pine forests. It is one of the most exciting areas as far as the floral and faunal assemblage is concerned. There are many rare and endangered species that are found in this region that included Asian Elephants (Elephas maximus), Clouded Leopard (Pardofelis nebulosa),
Gaur
(Bos gaurus), Golden Langur (Trachypithecus geei), Barking Deer (Muntiacus muntjak), Goral (Nemorhaedus goral), Yellow throated marten (Martes flavigula) and Patricoloured Flying Squirrel (Hylopetes alboniger). Due to the severe winter the animals generally migrate to the lower region of the Himalayas. Apart from that the region supports the rich species of birds and the most important it also comprises of eleven endangered species of birds.
Tribal population :
The jungles are home to the sizable population of indigenous people who continues to live in close association with nature and are still dependent on forests produce and resources for their livelihood. These people are still stick to their age old traditional, rituals , customs and values. Some of the major tribes that are found in the subtropical pine forests of the Himalayas includes
Khasi
, Garo, Jaintia, Lalung, Monpas and Rabha.
Serious threats to the subtropical pine forests :
Logging and cultivation in the Himalayan forests has push Rhinos, Tigers, Leopards and many other animals to extinction. Large portion of the forests in the region are being cut at the higher rate. Species of various plants and animals would soon disappear if proper conservation steps are nor taken immediately. Than the agricultural plots around the forests are serious threats to the various natural habitats of the animals.