Location of the Roopkund Lake :
The popular Roopkund Lake lies in the Chamoli district of
Uttranchal
at the height of 5029 meter. The lake provides the stunning view of the Trishul peak (7122 meter). Due to it less depth it also known as the shallow Lake. It is also popularly called as the Skeleton Lake because of the skeleton mystery behind the lake. It falls on the way of the Nanda Jat to Homkung. The surrounding glaciers and the glittering peaks are an added charm to this frozen lake. The best time to visit the lake lies between December to April.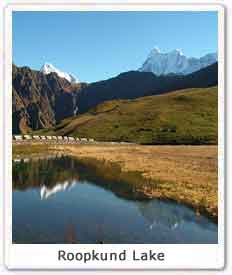 Mystery Behind the Roopkund Lake :
The mystery of Roopkund lake has haunted sociologist, historians and anthropologist for many years. The slopes of the Roopkund Lake are scattered with the hundred of human skeletons. These skeletons were discovered in the year 1942 when a park ranger Madhwal, walk unsteadily upon one of it and found the mass grave of skeleton. It is believed that the large number of people lost their life when they were caught in the bad weather some 800 years back. According to the reports all of them died due to the raining of hail stones upon their heads. It was cleared from the fact that most of them had skull fractures.
Roopkund Trek :
With its prime location under the lap of the Trishul, Roopkund is the popular attractions among the trekkers. The lake offers the energetic outdoor for the trekkers and the exciting option for the adventure holidays. The
trekking
routes provides you as much discovery of the nature as the discovery of one's self. Rock strewn glaciers and snow clad peaks enchants the tourists in between the route. The trekking starts from Debal which can be easily reached from the Almora town. Apart from the peaks and glaciers you may come across the unexplored lush green forests. Chances of encountering high altitude flora and fauna are high in the trek. The natural beauty of the trekking routes can't be explained in words and the pristine rivers and glaciers make an huge impact on its beauty.
Flora and Fauna of the Lake :
The lake supports the excellent scope for wildlife. The famous Nanda Devi lies near to the lake. So on the tour to the Roopkund lake you get the excellent opportunity to go for the wildlife safari. The Sanctuary has been declared as the World Heritage Site. The main attractions of the park include Himalayan Black Bear,
Himalayan Tahr
, serow, chir pheasants and snow leopards. Other than the wildlife the park equally has rich flora. Vegetation of fir, birch, rhododendron and juniper are found here. There are around 312 floral species found in the park. The avifauna found in the sanctuary incluudes the Grosbeaks, Rose Finches, Ruby Throat and Warblers The sanctuary provides the good opportunity for the mountainers to try their luck.