Located on the
Western Ghats
mountain ranges of the peninsular India to the south of the Palakkad Gap, the Southwestern Ghats moist forests are among the most ecologically richest regions of India. These moist forests are exceptionally the treasure trove – home to a magnificent array of flora and fauna, tribal population, fascinating peaks and several valleys. Eco tour to these forests provide you with an incredible experience of the unique bio diversity and richness of the natural heritage preserved on these ghats. It also comprises of the highest peak in the south Anai Mudi at 2695 meters elevation.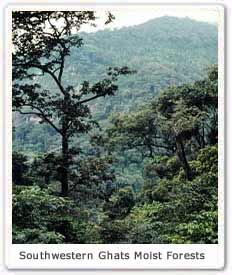 Biodiversity Description :
Wildlife of the eco forests :
The Southwestern Ghats moist forests are the home to one of the largest biosphere reserves housing several national parks and wildlife sanctuaries including Neyyar,
Bandipur
, Wyand, Mudumalai, Periyar, Peppara and Shendurney. Each of these national parks provides you with the fascinating experience of the variety and biodiversity of the Southwestern ghats moist forests. The forests provides shelter to some of the most endangered species such as lion tailed macaques, Nilgiri Langus, Clawless Otters, Nilgiri Tahr etc. Other animals found in the jungle include Dhole, Striped Hyena,
Golden Jackal
, Asian elephants, Indian Muntjac, Wild Boar, Chital, Sambar Deer and many more.
Among the endemic species of birds found in the region include Malabar Parakeet, Yellow throated Bulbul, Black and rufous flycather, Nilgiri Flycather, Malabar trogon, Malabar grey horn bill, and crested Hawk eagle. As the region receives the high rainfall more than 80 species of amphibians can be spotted here.
Apart from that region consists of the rich vegetation areas. More 400 species of flowering plants are found in this area. Than 320 species of 320 species of pteridophytes, 200 species of bryophytes, 300 species of algae 600 species of fungi and 800 species of lichens are known from the Southwestern Ghats moist forests.
Tribal population in the forests :
For hundred of years the region has been the home to various tribal people of India. Kani, Kattunaickans, Thoda, Irula, Kotha, Muduvans, Puliyas, Kurumba, and Badaga are some of the tribal groups found in this region. They have their own tribal customs and tradition, which they have been following for the generations. They are known to be modest and simple by nature. Agriculture and other handicrafts work is what that has kept them alive for so many years. They work as artisans, carpenters, smiths, basket makers, barbers and washer man to earn their livelihood.
Severe Threats to the forests :
Buckling under the modern pressure deforestation and unregulated tourism are the foremost threat to the Southwestern ghats moist forests. Even the conserved areas such as the national parks and the wildlife sanctuaries are facing tremendous pressures from the tribal communities residing inside the forests. Than the growing agricultural lands, logging and hydro electricity projects are continuously effecting the health of the forests.