The snow covered
Himalayan
ranges, especially Kanchenjunga peaks, in its foothills nestles the beautiful hill station
Darjeeling
. Dotted with magnificent sceneries and cozy hamlets, Darjeeling surprises and enchants the tourists in myriad ways. The small district of Darjeeling is world famous for its Tea having rich aroma and delicate flavour. By contrast to 216,000 hectares of Assam's Tea plantation area, Darjeeling has only about 20,000 hectares of Tea plantation area. Smiling some precious assets, the production quantity at Darjeeling is limited, but its most delicately flavoured Teas have given it reputation of being "Champagne Of Teas".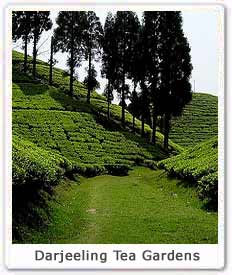 History :
Around 150 years back in 1839, Dr. Campbell, a British civil surgeon, was transferred to Darjeeling from Kathmandu. Being the superintendent of the territory, he was supposed to attract the tourists and settlers. In 1841 he brought some China Tea seeds from Kumeon, which he planted in his backyard garden. He become successful in his mission, as the government itself was thinking of establishing the tea nurseries in the area. Takvar wsa the first tea estate set up in Darjeeling around this time. Slowly the requirement of tea began increasing in the Nepal and among the Darjeeling settlers.
At present there are more than 100 tea gardens in Darjeeling 10 million kgs of tea directly. There are large number of gardens which produce 'Dooars tea' and 'Terai tea', but the taste of Darjeeling tea is simply unmatched. The total turn over of the Darjeeling tea industry is somewhere around USD 7.5 million. The industry has employed more than 50, 000 workers directly.
Tourists Activities :
Leisure walk through Tea Gardens :
Tourists can venture into the tea gardens, experiencing the busy life of the estate workers there. You may find thousands of workers plucking the tea leaves in the fields. You can witness them carrying large buckets on their back and working hard all through the day. Their are many families in Darjeling, who are totally engaged in this profession for generations. It is one such place where you can witness the making and manufacturing of tea directly.
Village Visit :
Than you make a nearby village visit to know about the lifestyle of the people in the
mountains
. You may enchant with the people there, who have deep belief in their culture and religion. The village offers the visitors the rare and unique experience.
Teesta Tea Festival :
You can be part of the popular Teesta Tea Festival, which is held in the month of November/ December in Darjeeling and Sikkim every year. The main attraction of the festival are the colourful cultural festivals that are held in the lush greenery of tea gardens, rolling hills and spectacular forests.